Why do I need to change my website?
Your dance school website serves as the first glance that a pupil, parent or adult gets of your business. There is enormous competition for their attention and custom. A person can make their first impression of your site in less than a tenth of a second, so it's vital to get this right.
This year has been brutal for the dance teaching industry and Performing Arts as a whole, and as the recovery starts in 2021, your business undoubtedly needs to be ready to hit the ground running.
A new or updated website can help you to adapt to these unique circumstances and will emphatically help to:
imIncrease attendance at your current classes.
Improve profitability.
Grow your business.
Change how your dance school operates in the current climate.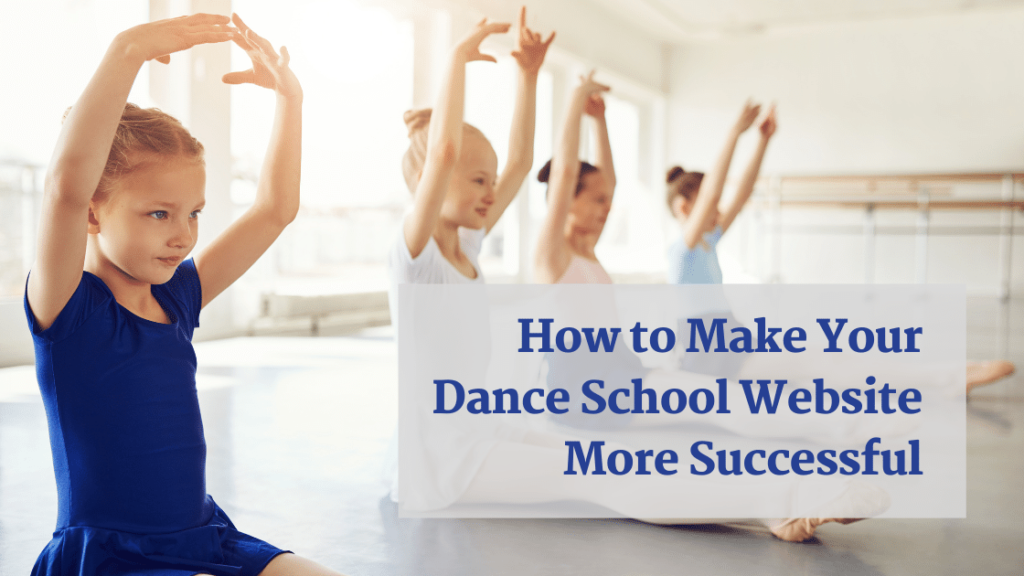 How will I achieve this with a new website for my Dance School?
There are lots of different ways to achieve those ambitious goals to help your business recover and grow through 2021.
At Vector Web Design, we can significantly improve your website in lots of ways:
1 - A more modern, professional design to help you get noticed and stand out.
Lots of dance schools haven't updated their website in many years. This can give off a negative impression to prospective students. An out of date website also fails to showcase the excellent classes, workshops, performances and competitions on offer. We can ensure that your website looks fantastic, clean and modern. There's some awesome design inspiration at Dribbble to take a look at.
Your email address is also an important first point of contact for prospective students and parents. An old Hotmail or Yahoo email address could easily be replaced with [email protected]
2 - Improve your website to appear higher in Google's search results.
Search Engine Optimisation (SEO) is a combination of strategies that help to get a website listed higher up the search results. The technical side of this is to ensure that your website is structured correctly. Vector Web Design can make various tweaks and improvements to make it easy for search engines to crawl the site.
We can help with advising how to raise awareness of your website. This can be helped by sharing links to pages and blog posts on social media and local business listings, also registering with Google My Business is very important at helping potential students and parents in your area to find your school.
The most important part of SEO is - Content! Google has an impressively smart algorithm for deciding which pages to display higher up the rankings. Therefore, you must build a web page that people want to read. You can achieve this by writing original content such as news articles, updates and opinion pieces. People will search for and read your content and want to share it. We can help with advising which features would help drive the right kind of traffic to your site with regard to making your business more profitable.
Google Analytics is a fantastic tool that can help to investigate the source of visitors coming to your website. This information can help to make timely adjustments to content and advertising. We can configure this for you and provide reports with only the most useful information to assist your school. We can figure out what your customers are searching for and make sure we customise our content to attract more.
The time it takes for your website to load is an important factor for Google, as well as being extremely frustrating for potential customers. At Vector Web Design we use Kinsta to host our client sites, a premium provider that utilises the Google Cloud to make them lightning fast. Our own website loads in just over half a second.
3 - Update your images and video
Everyone knows of a dance school website where the images are of pupils that have probably now had their own children attend the school. Professionally taken pictures can showcase the best of the school and help to entice potential students and parents.
We can help with building content such as picture galleries, embedded videos, TikTok feeds and more to keep your content fresh and up to date. Dance schools tend to have an easier time attracting students where they have videos online to show them what to expect.
4 - Make it faster to book classes and trial lessons
The simpler it is to see class availability and timetables, the greater the chance that a new student will attend your dance school. We can update your website to include calendar booking systems. Vector Web Design can integrate the software you use already, so it's possible to book directly on your website.
Popular booking software such as ClassForKidz, MemberMeister, BookWhen or DanceBiz can all be embedded into your website. This means fewer clicks for your students or parents and more conversions.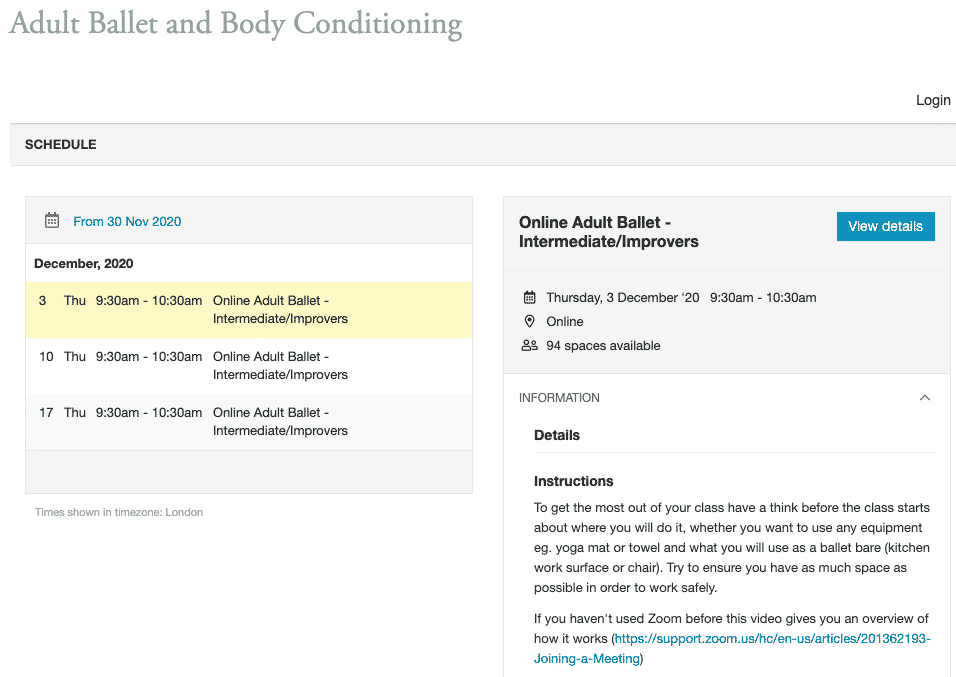 5 - Grow your mailing lists
Mailing lists and email subscriptions are also a great way to keep in touch with people. These can be those who are currently attending or might be interested in coming to your school. Vector Web Design can configure your dance school website to make it easy and attractive for visitors to sign up to your mailing lists. Afterwards, we can configure coupon codes for discounted classes to encourage them to experience the brilliant dance classes you offer.
We can configure email list services such as Mailchimp to remind people that haven't booked a class in a while. This will help to tempt them to come back to your school.
6 - Offer online classes or complete courses
This year has changed how many dance schools operate, and some positive changes might become permanent when this crisis is all over.
We can make it seamless for your customers to book and attend online classes directly on your website through Zoom. If you would like to take this further, it is possible to build entire courses online with combinations of descriptive text, images, recorded video and live classes. Once you have created the content, you can sell access to these courses over and over again.

7 - Make your site optimised for mobile devices
A lot of old dance school websites will not correctly display when viewed on a mobile device. Over 50% of website visits are now done on mobiles and ensuring that your site looks pixel perfect on each device is extremely important.
At Vector Web Design, we ensure that we build your site with a 'mobile-first' mentality that specifically means all images, text, videos and functionality all work perfectly on every single device.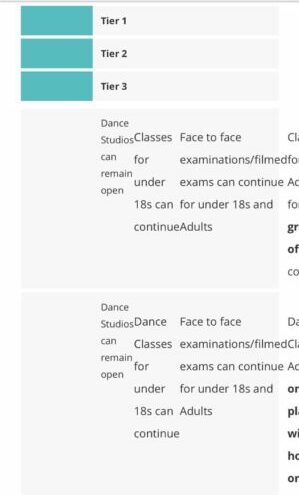 8 - Build an Online Store
An online store could be a valuable asset on your dance school website. This allows you to sell merchandise, tickets, scripts, downloadable content and clothing directly to your customers.
You could then use your mailing lists and subscriptions to upsell other relevant products, therefore increasing your profit margin.
9 - Show off your 5* reviews
A collection of positive testimonials really builds confidence in your dance school for potential customers. We can build this into your website and make it easy to leave reviews. It's really effective to target your mailing lists and subscriptions to incentivise people to leave reviews. Google Reviews are displayed prominently on their search pages and it pays to make sure you get the praise that you deserve.
10 - Include a prominent Call to Action!
A Call to Action (CTA) is a signpost you include in obvious places on your website to make it clear what you want your visitor to do next. This could be a 'Contact Us' button or a pop-up banner with an offer to 'Book a Trial'. If you make it clear what you would like your potential customer to do then you dramatically increase the chances of them converting and attending your school.
Define what your goal is for that particular web page, it might be to get someone to book a free trial, send you an email, subscribe to a mailing list or like your page on Facebook. Decide if there are any incentives that might help e.g. 20% off your first class if you subscribe to our mailing list. Make it easy for potential customers to navigate through your site and you will soon reap the benefits!